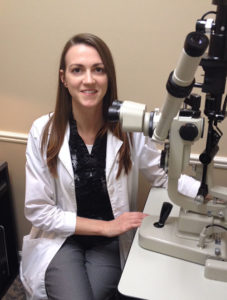 Dr. Lara Hubbard began seeing patients at Drs. Burnett and Burnett in September of 2013.  As of January 1, 2021, Dr. Lara joined Dr. Charlene in a new partnership, and Drs. Burnett and Burnett became Burnett and Hubbard Eyecare PLLC.  Dr. Lara is dedicated to providing patient-focused professional eye care.
She grew up in Missouri and received her Bachelor of Science degree in Biology in 2004 at the University of Missouri – Columbia.  She graduated from Southern College of Optometry in Memphis in May of 2009, receiving her Doctorate of Optometry degree.  While at SCO, she had externships at Premier Eyecare Associates in Chillicothe, MO, and John J. Pershing Veterans Affairs Medical Center in Poplar Bluff, MO.  After graduating from SCO, Dr. Hubbard started her optometry career in Collierville, TN.  She saw patients in Collierville and the greater Memphis area from 2009 until 2013 when she came to Drs. Burnett and Burnett.  She is a member of the Northwest Tennessee Association of Optometric Physicians, the Tennessee Association of Optometric Physicians, and the American Optometric Association.
Dr. Hubbard married her husband Ryan in 2010 and lived in Oakland, TN for the first few years of their marriage.  In 2014, they purchased a home in Jackson.  Dr. Lara and Ryan have three small children.  Dr. Lara enjoys spending time with her family and staying involved with church and community activities.